Offshore IT development made simple.
Sometimes you need an extra pair of hands (or even more than one pair) to get that project over the line. Right?
Contact us
Costs are an important factor, and so you are thinking "outsource to Asia", but you are worried…or maybe you had a negative outsourcing experience before?
Will the quality be good enough?
Will there be communication problems?
Can I trust them?
Will they deliver on time?
Does any of this sound familiar?
Outsourcing health warning!
Outsourcing can help lower your costs and cycle time while still delivering high software application quality but… hunting for a partner can be incredibly time consuming, and a bad choice can put your project at risk.
Well…BLENDIT (a Filipino-Estonian collaboration) can help you deliver one-off projects or collaborate to build and scale your development capabilities.
Blendit makes outsourcing safe and simple
100+ European companies and their agencies have trusted us so far (with a wide range of projects since 2016) and we just keep growing so I guess we are considered a safe pair of hands and "good value".
A rich source of talented Filipino developers who are deeply skilled in a wide range of technologies and platforms and deliver projects to European (Estonian) standards at highly competitive rates.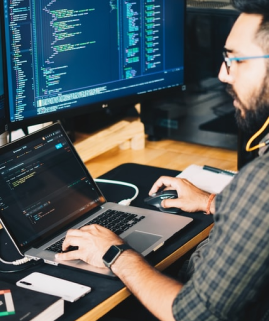 A rich source of talented Filipino developers who are deeply skilled in a wide range of technologies and platforms and deliver projects to European (Estonian) standards at highly competitive rates.
Blendit: Helping you succeed
BLENDIT makes your outsourcing successful with perfect-fit developer selection and customised project management solutions. This is risk-free software development outsourcing, the BLENDIT way. With 6 years' experience in outsourcing Filipino developer partnerships, BLENDIT is ready to match and manage the ideal team for your next software development project. project. The depth of BLENDIT's Filipino programming talent, their English language skills, competitive rates, and European quality project management mean BLENDIT should be on your shortlist when you're looking to hire an offshore development team.
1
Lower Costs: Our quality v price ratio sets us apart
Easily the most attractive benefit of outsourcing to the Philippines with BLENDIT is cost savings. Many economies and individual businesses have been badly hit by the pandemic, so costs really do matter!
Our European company and development agency clients tell us they often save 50-80% for the same quality of work (compared to their local prices). By outsourcing to BLENDIT, you can access resources (that cost 50-100€ an hour in Europe) for less than half the cost, with almost identical skill and expertise levels.
With BLENDIT your result, like for many clients, will be an outsourced development team aligned exactly to your needs – and ready to rock and roll at a fraction of the time, cost, and risk of outsourcing on your own.
Of course, you could hire some freelancers for peanuts and cross your fingers that your project gets over the line on time and under budget but using freelancers is not always a reliable solution and may not help your stress levels either!
2
Proven developer-matching expertise
Since 2016, we've helped over 100 European brands and their development agencies by identifying the right Filipino developers for outsourcing success.
First, we listen and understand your skills and capability needs. Then, because we know all our developers personally, we use that knowledge to precisely match the person or team for your project. Primarily we consider time-zone compatibility, English language proficiency, and technical skills. We call this Perfect-Fit Outsourcing.
3
Filipino flexibility
Resilient, hard-working, friendly, and flexible – your Filipino BLENDIT developers are already fully adapted to work in European time zones. They have also proven to be highly trainable, fast learners too.
4
Nothing lost in translation
The highly educated Filipinos who work at BLENDIT all communicate in English fluently and speak with a neutral easy-to-understand accent.
5
Speed matters!
BLENDIT developers accept they need to work in European time zones sometimes. They are paid well, and receive additional benefits, when they do. Working on "European time" is quite normal at BLENDIT.
Outsourcing with BLENDIT to The Philippines also means you can develop across time zones, adding extra hours of productivity to the working day. Our experienced Estonian project managers ensure there is continuity of quality. (Personal vetting is an essential part of the BLENDIT hiring process.)
BLENDIT developers can work in shifts around the clock on EU/USA or Asian time control costs, to meet tight deadlines. As the saying goes: When going gets tough, the tough get going.
6
Nice people, cultural fit
Western culture is admired and respected in The Philippines. If you have ever visited our offices in Cebu or Bohol you will know the BLENDIT team is kind, friendly and, if treated with equal respect, easy to work with.
7
Outsource with confidence
Experienced Estonian consulting and project management services are available/included?
Experience Philippines Outsourcing with Blendit
As an experienced and trusted outsourcing business in the Philippines, BLENDIT offers you an easy onboarding process. As easy as 1-2-3
Customised Team Alignment
Your BLENDIT developers will be fully operational and integrated with your internal development team as quickly as possible. Often in just a few days.
Rapid BLENDIT Developer Selection
Get your perfect-fit software outsourcing developer choices within just 5 days
Customised Software Development
Top quality Filipino developer teams build and get your projects over the line, on time, and within budget.